Autism Society Teams Up with Medical Community to Improve Access to Care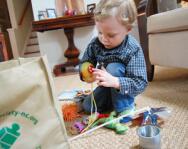 Autism Spectrum Disorder (ASD) is the second most common developmental disability; however, there are often mixed messages about autism which can lead to confusion for families and the medical community. ASD refers to a group of developmental disabilities that affect a person's ability to understand what they see, hear and otherwise sense. At times, the varied nature of ASD contributes to a lack of understanding and results in barriers to care and a failure to diagnose medical problems. 
As the incidence of autism has increased over the years to one in 150 births, so has the need for collaboration in the medical community. Since there is no specific medical test used by physicians for diagnosis, many children with ASD go undiagnosed in their early years. Signs and symptoms can vary from child to child. Therefore, the medical community must be tuned in to what to look for in children and where to turn for resources and referrals. 
Shelley Moore, a training coordinator for the Autism Society of North Carolina (ASNC), is doing just that – training pediatric physicians and hospital staff through a three-year grant supported by the John Rex Endowment. Moore emphasizes the importance of educating as many people in the medical community as soon as possible. "By looking for signs and making early referrals, the medical community can help set families on the right track earlier," said Moore. "Sometimes it's as simple as asking the right questions during a routine visit. Once a physician refers a patient and a proper diagnosis is made, early intervention with specific strategies can lead to enriched lives."
Just two years ago, the American Academy of Pediatrics recommended that all children be screened for ASD twice before age 2. A survey conducted by ASNC around the same time, through the North Carolina Pediatric Society, produced a high level of response and a strong interest in access to additional information and office trainings. ASNC responded with a multi-layered approach to raising awareness and improving the capacity of care for children with autism in Wake County through hospital collaboration and targeted trainings in pediatric offices, including physicians, nurses and office staff. 
Your Next Patient Has Autism
A doctor's office or hospital can be very uncomfortable – it's an unfamiliar place with new people, strange sounds and unknown procedures. This can be intimidating to any child, and that feeling is often amplified by the inability for a child with ASD to understand, communicate and appropriately relate to other people, objects or events. 
The anxiety induced by routine health care experiences can be enough to make families of children with autism avoid them whenever possible – creating a concern regarding the overall access to care for these children. By incorporating parent advocates and hospital trainings which specifically address the use of sensory kits and other techniques to accommodate families with autism, Moore and her colleagues are building a foundation of understanding and preparing as many as possible for the next time they have a patient with autism. Additionally, ASNC is equipping families with tools to make accessing medical care more successful.      
Moore has found it rewarding to work with pediatricians, hospital staff and pediatric dentists who have shown a proactive interest in providing improved care. Her team provides tangible tools and strategies which can be incorporated into health care environments.  "We teach them things that they can incorporate right away such as dimming lights and using sensory kits," said Moore. Recently a colleague shared a reassuring story with Moore about taking a child with ASD to WakeMed. Moore explained, "She was relieved to encounter a staff member who was readily familiar with the sensory kits we use to make kids more comfortable.   Stuff like that makes all the difference."   
In the first two years of the pilot project, approximately 30 pediatric offices have received training, with all office staff being invited to lunch and learn sessions. In the second year of the grant, ASNC partnered with WakeMed to provide a series of educational trainings over four months. The programs were offered initially at the New Bern Avenue campus in Raleigh, where the WakeMed Children's Emergency Department is located. Working with child life specialists, nurses and other clinical staff, ASNC is building a network of contacts and laying the groundwork for greater understanding.  The ASNC team has also participated in health fairs and will continue to work with pediatricians and WakeMed to provide trainings at other sites in the third year of the grant project. 
Raising Awareness
Coupled with a targeted focus on the medical community, ASNC also recognized the importance of raising awareness with the community-at-large. They developed and aired two new public service announcements (PSAs) in conjunction with a multi-layered 2009 Autism Awareness Campaign. The two PSAs feature Dr. Brian Bowman, an Apex-area pediatrician and father of a child with autism, speaking frankly about the benefits of ASNC's free educational services and materials which have made a difference for his own family and medical practice.
"We wanted to employ a voice that would grab the attention of both parents and professionals in the medical community," said David Laxton, director of communications for ASNC. "Since he's a doctor and Dad, it was a great fit." ASNC received a noticeable increase in phone calls and visits to their Web site during the airing of the TV PSAs as well as some targeted radio spots. The PSA 
"DAD"
 can be viewed online.