Award Recipients Designate Charities to Receive $10,000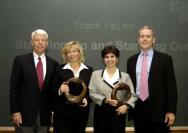 More inclusive summer camps. Mental health services for children without the means to pay. An exciting new program that gets gym students moving. These are just some results of the thoughtful choices made by John Rex Endowment Hands of Health Award recipients. Each year, the Endowment honors someone who has improved the health of our community's children and youth by giving $10,000 to the charity that person selects. Local agencies have used these contributions in creative ways to expand the good work they do.
The North Carolina Pediatric Society Foundation used the 2004 donation in honor of Peter Morris, MD to jump-start a fundraising effort that resulted in over $100,000 in pledges. Morris, who is medical director for Wake County Human Services, says he chose the foundation because it brings pediatricians closer to individual children and families with common needs, including access to quality care, family support programs and early childhood stimulation and development.
"These are the conditions that allow children to thrive at home, in school and in life," he says. "When the Endowment honored me, I wanted to give back to the people and organizations that had helped form me, and the foundation was a natural choice."
Don Rosenblitt, MD chose to designate his 2005 award for the children's mental health facility he leads, the Lucy Daniels Center for Early Childhood. The gift helped fund care for some of the 500 children the center serves each year, more than 90 percent of whom come from families that cannot pay the full cost of care.
"As founder and medical director, I am in a special position to understand the vital contribution that the center makes to the children of Wake County," he says. "When children are helped to overcome emotional and social challenges early in life, a potential and promise is returned that is a special gift to them and the community."
The Endowment gave two $10,000 awards in 2006. Yo Sobha, associate branch director of the A.E. Finley YMCA in Raleigh, won one of them for his work with children with autism at the YMCA's Camp GRACE (Growth, Recognition, Achievement, Character, Encouragement). That's the organization he selected to receive the donation. The award, he notes, allowed the camp to purchase specialized equipment and to expand to a second location, the Kraft Family YMCA in Apex.
"Our Camp GRACE kids are getting a true camp experience filled with singing, dancing, swimming, horseback riding, dog therapy (compliments of WakeMed Hospitality Pets) and lots of fun-filled games," he says. "The award has really allowed us to do more, for more!" 

Mark Piehl, MD, a pediatrician with WakeMed Faculty Physicians, split his 2006 Hands of Health Award between Camp Oak Hill in Oxford and a new medical clinic for the Durham Rescue Mission. Piehl had helped start a program at Camp Oak Hill that lets children with diabetes and asthma attend residential summer camp under close medical supervision. Part of the donation in his honor went to purchase a portable medical kit that allows staff at the remote camp to respond to any kind of pediatric emergency.
The rest of the donation will help fulfill one of his dreams, a medical center devoted to the care of the underserved. Some of the funds have been used for computer equipment; the balance will go toward renovating part of the Rescue Mission's women's and children's shelter, the Good Samaritan Inn, as a full service medical clinic to be called the Samaritan Health Center.
2007 also brought two $10,000 awards. Kathy Higgins, president of the Blue Cross and Blue Shield of North Carolina Foundation, was involved with Be Active North Carolina since its inception, and she asked that the donation in her honor help further its mission: increasing physical activity and promoting healthy lifestyles. The organization has earmarked the money to deploy a physical education tool called HOPSports in a Wake County school this year. Using video, graphics, lights and music, HOPSports gets children--particularly at-risk children--significantly more active than traditional PE classes.
Wake County family nurse practitioner Liliana Berman was also honored in 2007 and chose the Making Magic Alliance, which provides summer camp experiences to Wake County school children who otherwise would not be able to participate. Through the Alliance, children who are not achieving at grade level because of multiple family issues take part in programs that include physical activity, parent involvement, life skills education and academic support.
"I feel that the Alliance has the tools to continue the task I started five years ago," says Berman, who worked with Wake County 4-H to establish support groups for Latino children at Fuquay-Varina High School. "Our goal was to increase their self-esteem and guide them to make positive decisions in their lives," she says. "I have always believed that if you give children support and provide them with opportunities to develop their best characteristics, they will make you proud."