Baucom Elementary Teacher Reflects on 20-Year School Wellness Journey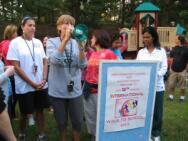 Constance Cronk, a retiring physical education teacher, recently reflected on how her career has focused on enhancing the total wellness of her school community. In a recent blog post written for Advocates for Health in Action, Cronk described a wellness adventure that spans 20 years at Baucom Elementary School in Apex, NC. 
The highlights of her journey include numerous programs, including the Baucom Buddies Marathon, Morning Body Rock featuring daily exercise on the Baucom TV News, and a Recess Walking Challenge. The school has a Wellness Trail around the perimeter of the school.
"By far, the most successful aspect of my program is the Baucom Wellness Trail," wrote Cronk. The trail has enabled the school community to launch programs for students and staff. "It has given our students, staff and families a place to come together and get healthy."
The Wellness Trail at Baucom Elementary was constructed with funding provided by a three-year $30,000 Wake to Wellness grant from the John Rex Endowment. Through a competitive application process, Baucom Elementary was one of 15 elementary schools in the Wake County Public School System to receive a Wake to Wellness grant in 2007 to help meet nutrition and physical activity requirements of local school wellness policies.
Cronk notes the school has seen almost 75 percent of the student body participate in a take-home marathon, and they have seen almost 100 percent involvement in daily walking challenges.
She emphasizes that every child, parent, staff member and community leader needs to be a part of the process to educate and transform the lives of children. "We have evolved from students standing around to entire classes walking together with a purpose," said Cronk.
Read the 
guest post
 written by Constance Cronk for the Advocates for Health in Action blog.