Breastfeeding Welcome Here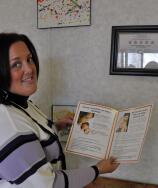 When the time comes for mothers to seek child care, there can be a lot of anxiety and concern. After all, it means a change of routine, communication and interaction for both mother and baby. One big hurdle for many working mothers is juggling the schedule of a job while continuing to provide optimal infant and young child feeding. To address this obstacle for families, the Carolina Global Breastfeeding Institute (CGBI) spearheaded a collaborative initiative in Wake County, which began in 2009, to create child care environments which support mothers so they can give their infants the best start in life through continued breastfeeding.
According to Dr. Miriam Labbok, director of the Carolina Global Breastfeeding Institute, breastfeeding is now fully recognized as one way to fight obesity, diabetes, infectious disease and many other chronic diseases in mothers and their babies. "The impact of breastfeeding is even greater when low wealth and or groups that suffer from disparities are introduced to this health-giving practice," said Labbok. "The word is out and has been echoed by our First Lady Michelle Obama and the Surgeon General of the United States, Dr. Regina Benjamin."
"Many mothers switch to formula earlier than recommended once their child starts day care," said Amy Petersen, RN, a child care health consultant in Wake County. "Working mothers often face barriers such as lack of support and accommodations that make it difficult to continue breastfeeding."
The CGBI team worked with Wake County SmartStart and Child Care Health Consultants to evaluate local child care providers' knowledge, attitudes and practices related to breastfeeding. They initially surveyed 100 child care centers in Wake County using a 10-Step Breastfeeding Self Assessment. "The surveys helped us understand what people already knew and thought," said Barbara Cameron, project director of the Breastfeeding-Friendly Childcare Initiative. "We learned a lot about attitudes and practices, and this helped us tailor trainings and develop useful, educational materials for both providers and parents."
CGBI found that child care providers were frequently working with inaccurate information. Many providers were unsure of how to handle human milk and assumed storage was complex. Others simply didn't have a place for mothers to visit and breastfeed on site. The CGBI team developed and provided breastfeeding-friendly child care trainings to intervene and educate providers about the facts, including the nutritional benefits of human milk for infants. "A common misconception is about health risks associated with handling human milk," said Petersen. "They were relieved to hear that there is nothing complicated about it and that the risks are virtually non-existent for providers."
 
Petersen, who was hired to work on the CGBI Breastfeeding-Friendly Initiative, has provided trainings for approximately 380 child care providers across Wake County. Through her work, she has found many child care centers who were not comfortable talking to mothers about the logistics of breastfeeding due to their own misperceptions derived from common myths about breastfeeding.

On-site child care trainings, developed and provided by CGBI, with support from Wake County SmartStart, included methods appropriate for adult learning such as active participation and discussion. They incorporated time for talking about personal feelings regarding breastfeeding as well as the science behind breastfeeding advocacy and the benefits for babies and mothers who receive support from care providers as they transition back to work. "Providers realized that they can put parents at ease and help mothers feel comfortable continuing to breastfeed longer," said Petersen. "By proactively letting families know they support breastfeeding, it sparks a conversation."
"Parents are now greeted with 'Breastfeeding Welcome Here posters' upon arrival and in the infant room," said Tammy Penner, director at South Wake Preschool and Academy in Fuquay-Varina. "They've helped open the lines of communication – we were just missing the right tools." CGBI developed resource materials to address concerns for both breastfeeding and formula feeding parents. They are color-coded and written for low literacy levels. "The photography is great – it's so nice to have something like this to share with mothers," said Penner. "Now, we are well-prepared with information, resources and conversational skills that help put everyone's concerns at ease." The resources were designed and tested in Wake County with a dual purpose to assist both families and child care providers. 
Providers have reported significant changes attributed to both the trainings and resources such as the 
10-Step for Breastfeeding-Friendly Child Care
 provided by CGBI. "Once we got the conversation going and presented the facts, they really grasped the importance of being supportive and proactively talking to mothers about their options," said Petersen.
Preliminary research results indicate that all centers who participated in the breastfeeding-friendly child care trainings have made some changes. Fifty percent of participating centers reported making their environment more breastfeeding-friendly, and 72 percent reported doing more to inform families about the benefits of breastfeeding. Specific improvements indicated by individual providers in Wake County included proper handling of human milk, communication of the health benefits of breastfeeding, improved attitudes toward caring for breastfeeding babies, and providing breastfeeding support.

The initiative in Wake County enabled the CGBI team and their partners to gain insight, develop and test tools, provide trainings and improve materials after gauging their effectiveness. "Although there are some other communities and states working on breastfeeding-friendly child care provider initiatives, we were surprised that there was not an existing, comprehensive set of tools that could be used by child care providers," said Labbok. "This is the first project that has included significant evaluation of intervention; I can't tell you how excited we were about the impact these trainings and materials have on provider knowledge and attitudes, which can lead to big changes in creating supportive environments for breastfeeding mothers."
The Breastfeeding-Friendly Childcare Initiative in Wake County, supported by a grant from the John Rex Endowment, has also created opportunities for CGBI to share lessons learned and resource materials at a national level. CGBI has contributed to state and national guidelines on this issue, and they are evaluating ways to expand their work further in Wake County. A 
toolkit
 developed locally by CGBI will be available online in early 2012. Additionally, child care centers and parents can access a 
Let's Move Child Care checklist and other information online
 at
www.healthykidshealthyfuture.org