Community Stakeholders Work to Prevent Leading Causes of Childhood Injuries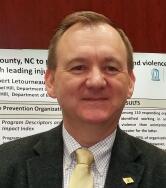 Injury is the leading cause of death and disability for children and adolescents (age 0-17) in Wake County.  In ongoing efforts to change that fact, community practitioners came together on June 18 for a half-day session to learn and network as part of the grant project SKIPP (Skills & Knowledge for Injury Prevention Partners), awarded to Healthy Solutions, a team within the Dept. of Health Behavior at UNC Gillings School of Public Health. Nearly 70 participants representing various perspectives including advocacy, behavioral health, crisis intervention, juvenile justice, public health, transportation, and youth development.
In his keynote remarks, Alan J. Dellapenna, Jr., Injury and Violence Prevention Branch Head at NC DPH, emphasized the need to use evidence-informed strategies in order to have significant impact in reducing childhood violence and injury.
A panel of speakers from four local organizations shared successes and challenges in applying evidence-based practices to their work to prevent childhood injury.

Panelists included:
Carolyn Crump, PhD, Research Associate Professor in the Dept. of Health Behavior, presented data on the five leading causes of childhood injury in Wake County: motor vehicle crashes in which children are the occupant, assault (physical violence, child abuse, sexual violence), motor vehicle crashes in which children are pedestrians, self-inflicted harm and falls. Each of these leading causes presents a frightful picture for Wake County children.  These five areas were responsible for 65 deaths to Wake County children and youth between 2006 and 2011.  For each child fatality, there are approximately 25 hospitalizations and 925 emergency room visits.
The networking event was the second county-wide meeting organized by the UNC Healthy Solutions team. The first meeting in 2014 included a review of A Profile of Wake County Childhood Injury Prevention, a John Rex Endowment-commissioned report.  The report details organizations engaged in childhood injury prevention work, identifies key data and gaps on childhood injury, and outlines recommendations specific to injury prevention. 
When it comes to preventing childhood injury, there is something that can be done at every level within our community to improve the outcomes for the health of children.  Through 2018, SKIPP will provide no-cost training opportunities and networking events for individuals and teams who are ready to strengthen their knowledge and skills in effectively practicing ways to prevent childhood injury and create safe environments for Wake County children. 
See the SKIPP website for more information.