Cooking Matters Helps Families Prepare Healthy, Affordable Meals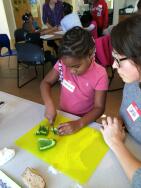 The Inter-Faith Food Shuttle (IFFS) offers Cooking Matters, a national nutrition education course that was featured on NBC Nightly News. Local classes, which are offered to children, families and child care professionals, use nationally developed curricula to teach low-income families how to purchase and prepare healthy foods. 
Cooking Matters combines cooking and budgeting strategies to help families pull together healthy, affordable meals. Local, volunteer culinary and nutrition experts teach six-weeks of lessons. IFFS and satellite agency partners offered 39 classes in 2012 with a total of 460 participants. Communities In Schools is one of the groups working with IFFS to offer the program for children.
 Each lesson includes practical information such as how to read food labels and select the healthiest items within a budget. The group setting and hands-on cooking component give families a supportive environment and the opportunity try new foods and recipes.
Cooking Matters is offered through IFFS with support from an Empowering Healthy Food Choices grant from the John Rex Endowment. The three-year grant project is a response to the increasing demand for healthy food. The project purpose is to improve access to fresh fruits and vegetables for underserved communities and help them learn to value and utilize these foods. 
View the NBC Nightly News video.