Fourteen Schools Win AHA Brains and Bodies Healthy School Awards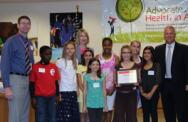 Wake County Public School System (WCPSS) Superintendent Tony Tata joined Advocates for Health in Action (AHA) on May 30 to announce the 2012 Brains and Bodies Award recipients for Wake County elementary and middle schools that are striving to improve the health of students and staff.
Four schools won the Gold Award designation for their efforts to increase physical activity and nutrition opportunities:  
Davis Drive Elementary
Laurel Park Elementary
St. Mary Magdalene Catholic School
Underwood Elementary
Three schools earned the Silver Award: 
Hunter Elementary
Lincoln Heights Elementary
West Elementary
Bronze Award winners include:
Brier Creek Elementary
Oak Grove Elementary
Sterling Montessori & Charter School
Wake Forest Elementary
Wiley Elementary
Two schools earned an Honorable Mention award:
Holly Grove Elementary
Rolesville Elementary
"We are so impressed with the innovative ways these schools are creating a culture of wellness," said Sheree Vodicka, director of AHA and WakeMed Community Outreach. "What really set the Gold Award winners apart is that they each have a Wellness Committee involving staff and parents—and in some cases students—who are working together to implement their school wellness policy. This type of committee is essential to maintaining and sustaining a comprehensive approach to health and wellness in schools."
"I congratulate the winning schools and applaud their outstanding efforts to emphasize healthy habits and to create a healthier school environment for staff and students," said Supt. Tata.

AHA created the award program in 2010 to celebrate and recognize schools that are making an effort in this area. Each of the Gold Award winners earned a "Healthy Students Grow Here" banner to hang at their school and $500 from AHA to use for wellness initiatives for the upcoming school year. All schools received a framed certificate, and Silver winners earned $250, Bronze earned $100, and Honorable Mention earned $50.

"We hope that all schools across Wake County will be inspired by what these award-winning schools are doing--often at little or no expense--to make a difference in their schools and win next year's awards," Vodicka said.

"Our Brains and Bodies award winners are making a real difference in their schools by offering free walking and/or running clubs, opting for school fundraisers that focus on fitness rather than unhealthy foods, highlighting healthy choices and shifting the way schools celebrate birthdays." 
 
Profiles of each of the award winners are featured on the AHA website (
www.AdvocatesforHealthinAction.org
) as a reference for schools to adapt ideas and programs as they may be appropriate for their school environment.
The John Rex Endowment provides grant support for AHA, a group of diverse organizations and community members who are shaping the environment throughout Wake County so healthful eating and physical activity are the way of life.