Irecka Smith Joins John Rex Endowment Team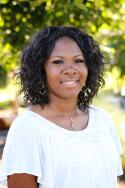 We are pleased to announce the appointment of Irecka Smith as Director of Communications, effective August 1, 2021.
Smith, who has more than 10 years of communications and marketing experience in nonprofit organizations, comes to the John Rex Endowment from Duke School, where she was the Director of Marketing and Communications. In her previous role, Smith led the organization's internal and external strategic communications plans and served as an advisor for the school's equity and justice initiatives. She earned her bachelor's in English and master's in education from North Carolina State University. She also earned two graduate certifications in marketing strategy from Cornell University, and community college teaching from North Carolina State University. As an educator, Smith has served her community as a volunteer teacher with the City of Raleigh's Cultural Outreach and Enrichment Program for more than 11 years, in which she was a recipient of the 2018 Fred Fletcher Outstanding Cultural Resources Volunteer Award.
"We are thrilled to have Irecka join our team. Through her communication expertise, we'll strengthen our advocacy voice, build the awareness of issues and share progress being made as we pursue our desired impact that all children and their families are safe, healthy, and living to their full potential," says Kellan Moore, John Rex Endowment president and CEO. "With Irecka's background, creativity, lived experiences, and understanding of how to write with a racial equity lens, her skills will be instrumental in helping us continue to advance positive change."
A note from Irecka:
I am excited that the Endowment's work is so uniquely aligned with values dear to me—a commitment to racial equity and advocacy for children and families in Wake County. I have dedicated my career to writing and educating, and I am fortunate to join an incredible team and foundation whose intentional focus on communication initiatives will provide an opportunity to be innovative as we work to further the mission.
Irecka can be reached at irecka@johnrexendowment.org.