Local Funders Are Listening and Collaborating to Strengthen Nonprofits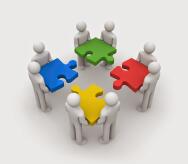 Leaders from 14 local funders recently joined forces to address their concern over local nonprofits' capacity building needs. Capacity building, sometimes referred to as infrastructure, is described as the activities designed to ensure the organization is effective in delivering upon its mission and is a sustainable entity.
The group commissioned a research project with North Carolina State University's Institute for Nonprofits (NC State) focusing on better understanding the capacity building needs of local nonprofits to support their organizational health and sustainability.
The funders' collaborative plans to work in partnership with local nonprofits to begin implementation of strategies identified in the NC State research final report.
The project was funded by Blue Cross and Blue Shield of North Carolina Foundation, Cary Oil Foundation, John Rex Endowment, Mary Duke Biddle Foundation, North Carolina Community Foundation, Oak Foundation, Triangle Community Foundation, and United Way of the Greater Triangle.
See the November 14, 2017 press release, Funders Form Collaborative Partnership to Further Support Organizational Health of Local Nonprofits; Publish Report on Initial Findings.
To learn more about this collaborative effort please contact Gladys Hairston, Program Associate, at Gladys Hairston or 919-838-1110 extension 6.