New Learning Opportunity: Anti-Racism Affinity Group for White Leaders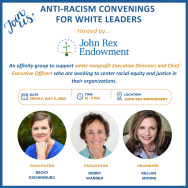 We know that leading an organization to center racial equity and justice is really hard work. A helpful tool is caucusing within one's own racial/ethnic group. White caucuses provide time and space to work explicitly and intentionally on understanding white culture and white privilege and, puts the onus on white people to teach each other rather than placing a burden on people of color to teach them.
John Rex Endowment is proud to offer a 4-session peer program for white leaders who are working to center racial equity and justice in their organizations – at any stage of this journey. Facilitated by consultants Becky Eschenburg and Debby Warren, this affinity group is open to white, nonprofit leaders who are working to improve the social emotional health of children living in Wake County. It will focus on both the personal and institutional/structural aspects of racism.
We are planning for four 2-hour sessions beginning on Friday, May 5, from 12 – 2 PM. Participation will be capped at 15. We welcome more than one white leader from an organization if space permits.
PLEASE REGISTER by April 21. You will have the opportunity to opt out after the first session, but after that your consistent participation is essential to build trust and relationships within this affinity group. Once you register, Debby and/or Becky will be contacting you to learn more about your goals, ideas and any training you have had on racial equity.
---
John Rex Endowment will be offering a variety of racial equity learning opportunities (in-person and online) throughout the year – including affinity groups for leaders who identify as white, Black, Indigenous, Latinx, and/or other People of Color.