Town of Zebulon Receives Let's Move! Cities, Towns and Counties Bronze Medal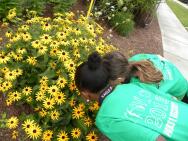 The Town of Zebulon Parks and Recreation has earned a Let's Move! Cities, Towns and Counties (LMCTC) Bronze Medal for their work to make Zebulon a healthier place to live. Residents can enjoy walking or strolling on new trails through Zebulon Community Park; kids receive healthy snacks while in programs; and church youth groups participate in free program nights through the "Churches on the Move" initiative.
The Town of Zebulon is one of eight community organizations supported by a Healthy Places, Active Spaces grant, which is funded by the John Rex Endowment and administered by the Physical Activity and Nutrition Branch of the N.C. Division of Public Health. The Healthy Places, Active Spaces grant recipients receive support to develop sustainable physical activity and healthy eating opportunities for children in Wake County.
"Individuals can only make healthy choices if they have healthy choices, and Zebulon Parks and Recreation is doing all they can to ensure residents of Zebulon have many choices," said Marjorie Lanier, Healthy Places, Active Spaces Program Coordinator. "Park and recreation agencies are well-positioned to initiate and coordinate activities that encourage active living and healthy eating, and it is exciting to see Zebulon Parks and Recreation taking the lead on initiatives like this for their town."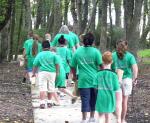 Municipal staff for Knightdale, Wendell and Zebulon, along with other organizations and businesses in those communities, are members of the young Eastern Wake Advocates for Health in Action Work Group, which has been meeting to increase access to healthy food and physical activity in that part of the county. As part of the group's work, the three municipalities joined the LMCTC initiative, which is an ongoing commitment to help local elected officials reduce childhood obesity in their communities.
The National League of Cities is the lead collaborating partner of the LMCTC initiative. Local elected officials have the opportunity to earn medals as they meet benchmarks to accomplishing five goals, which are provided by LMCTC and designed to promote sustainable strategies that will improve the health of local constituents.