Towns Expand Access to Healthy Food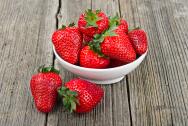 The towns of Fuquay-Varina and Zebulon have much to be proud of and to celebrate. They are changing the face of their communities so that nutritional and affordable food is a regular choice of many children and families.
Children learn while cooking
The Town of Fuquay-Varina, in partnership with the Growers Market, recently held the grand opening of a new instructional kitchen located within the town's Community Center. Children come to the kitchen to have fun learning cooking skills while enjoying fresh food from the market.
Community shares local foods
In the Town of Zebulon, the Farm Fresh Market is taking a variety of steps to bring affordable, good quality, and accessible food to the community. At the Saturday market, customers have the option to donate fresh produce from the market or make a cash contribution to benefit the food pantry at Zebulon United Methodist Church. During the summer, the Farm Fresh Market will be the site for a Summer Nutrition Program offered to children who participate in the church's Backpack Buddies program.
These towns are two of the six Wake County municipalities awarded grants by the John Rex Endowment to create healthier environments for children by increasing access to healthy foods and active living opportunities.
Read the News and Observer articles:  Fuquay-Varina's community kitchen is first of its kind in Wake County and Food-minded groups unite efforts in Zebulon.