Triple P Founder Matt Sanders Visits Raleigh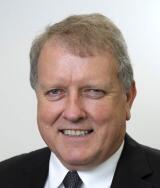 Professor Matt Sanders, founder of the Triple P – Positive Parenting Program® visited Raleigh on August 20 for the Triple P Stay Positive Raleigh celebration with Project Enlightenment and more than 30 local partner agencies.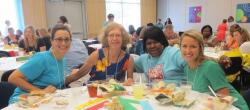 Sanders delivered a keynote message at Marbles Kids Museum during a luncheon celebration for the Raleigh-based Triple P partners who are working together to help parents provide a safe and nurturing environment for their children. Later, Sanders welcomed parents at a Stay Positive evening resource fair at Millbrook High School for parents of children ages 5 and younger.  Parents were invited to attend a seminar titled, "The Power of Positive Parenting," which was presented by local, Triple P-trained professionals.
Triple P is an evidence-based, international model that offers parents simple and practical strategies to help them confidently manage their children's behavior, prevent problems from developing, and build strong, healthy relationships. Project Enlightenment, an early childhood education and intervention program of the Wake County Public School System, has provided the Triple P training and certification for more than 200 staff in places and spaces where families visit, play or seek services in Raleigh. Partner organizations include agencies that already provide social-emotional, health and education services.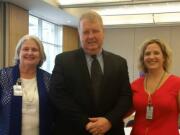 The Triple P rollout in Raleigh is funded by a $2 million John Rex Endowment grant award to support the positive mental health of children from birth to 5 years.
For more information, contact Project Enlightenment or Triple-P or call 919-856-7777.
Watch Dr. Allen Mask's WRAL-TV interview with a local family who benefited from Triple P in Raleigh.