WakePedNet Takes Big Steps to Improve Child Pedestrian Safety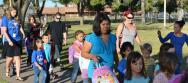 As families across the Wake County are encouraged to be more active, many face barriers and safety concerns when they set out to walk or bike their way around town. Since 2000, more than 650 children, age 18 and younger, have been involved in a pedestrian crash in Wake County. The Wake County Child Pedestrian Safety Action Network (WakePedNet) is working on long-term policy changes to improve the environments where children walk.
WakePedNet is taking the necessary steps to raise awareness of child pedestrian injury concerns in the County, to share and plan activities, and to build greater capacity to prevent pedestrian crashes and injuries. The network, which is comprised of community members and local, county, and state-level stakeholders, is supported by the UNC Highway Safety Research Center (HSRC) with its partner Toole Design Group, through a grant from the John Rex Endowment.
The John Rex Endowment actively builds on the interconnectedness of funding areas, and this project addresses both healthy weight and injury prevention. The supporting grant, awarded to the UNC Highway Safety Research Center in 2011, provided funding to assess community-specific child pedestrian safety needs; develop partnerships and communication tools; facilitate action plan workshops; and provide ongoing technical assistance.
Walkability Audits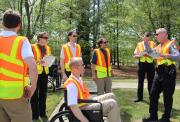 WakePedNet is coordinating a series of walkability audits to use when communicating with decision-makers about pedestrian safety concerns. They involve city planners, engineers, police, fire safety and partners. Together they observe and document safety issues and opportunities.
Read about a recent Walkability Audit in Apex, which was featured by Advocates for Health in Action.
Safe Routes to School
As WakePedNet assesses community needs, school settings are a big part of the picture. Read the Safe Routes to School National Partnership blog post about the work of the Wake County network.
Resources
View the online calendar for upcoming meetings. Resources, presentations from past meetings and the work plan are all available at www.WakePedNet.org