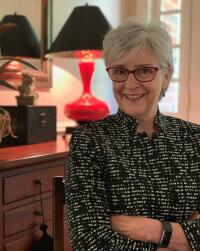 Dr. Deborah Nelson, an early childhood development consultant and psychologist, was inspired to join the John Rex Endowment's Board of Directors because of the organization's mission to support an environment where children and families, particularly those considered vulnerable, live healthy lives. She hoped that her training and experience in both public health and child development would be useful to a Board dedicated to improving the health and wellbeing of children in Wake County.
As she finishes her second and final term on the Board, Nelson believes that using the word "courageous" when talking about "champions for children" is an important distinction. Especially now during a divisive time in the world, it's more important than ever to be an outspoken, clear, unwavering voice for all children.
Nelson goes on to say that "we have the luxury of a solid scientific foundation to support investments in the policies and practices that we now know are associated with better outcomes for children. We also know that when we use our voices and our resources to shape these policies and practices in ways that are best for developing children, the impact goes far beyond individual children to families to neighborhoods to the nation and the world."
Reflecting on the work of the Endowment over the last six years, Nelson emphasizes the importance of the Endowment's value of working together, which acknowledges that the Endowment is likely to achieve its mission when it engages with individuals, groups, and organizations with diverse perspectives and experiences.
"This is not simple work and it requires a collective and sustained effort from all sectors. Families in our community know what they need to support the health and development of their children. We have a strong research community dedicated to understanding the factors that affect child outcomes. There are effective community nonprofits, government agencies, advocates and other funders that use their time, resources and skills to support child wellbeing. The JRE staff and the board has deep expertise, experience and skills in diverse areas that are essential to the Endowment's mission," Nelson explains, adding that "it has been an honor work with an organization that recognizes that children and their families are best served when we work as a collective dedicated to improving the health and wellbeing of all children." [09/2019]