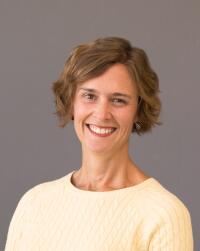 Simpson, a vice president at TrueBridge Capital Partners and specialist in venture financing, is in her first term on the John Rex Endowment board. When asked by another board member, Matt Leatherman, to consider joining, she says she "did my homework on what this board was like --- read the website, talked to others, evaluated the mission." The mission spoke strongly to her as she is the mother of sons who are five and seven years old, and from both a mother's perspective and a professional steward of financial assets, she was intrigued.
"I'm fortunate to have children whose experience in the school they attend and the neighborhood where we live is very positive, but I know not all children have that same experience," Simpson commented. "Knowing that there are 5,000 homeless children in Wake County is a number I learned while being oriented to the Endowment board. That has really impacted me as a volunteer."
Simpson says that while the Endowment survived the recession 10 years ago and has seen a relatively 'bull market' since then, no institution can rest on its laurels, so to speak. "We don't know what's coming down the road, although we can make some predictions. So as a Board our return on investment needs are aggressive. We want to be ready for any market downturn and still be able to fund important projects for vulnerable children and families in our county."
She is pleased that the Endowment is moving into more advocacy efforts, as in backing nonprofits who work on the NC census, and she is also excited about the sale of the former Endowment office building and the acquisition of a new one, on Wake Forest Road. The larger office, in a location near downtown Raleigh, will provide additional meeting space to further support grantees' efforts to collaborate and work on behalf of children.
Simpson concludes, "I'm really proud of Wake County, having lived here for 11 years, and I'm happy to be on the Endowment board as we reach beyond traditional grantmaking to fulfill our mission." [09/2019]