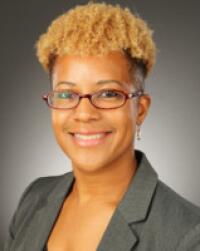 Latasha Winstead joined John Rex Endowment's board in October 2018, and now serves as chair of the Health Improvement Committee, which oversees the funding guidelines and process, and vice-chair of the full board. She is currently with UnitedHealth Group, where she has served as Senior Network Development Specialist, Manager of Community Engagement and now, Community Collaboration Manager. Before that she was a Practice Administrator with UNC Physicians Network.
"I've lived in Wake County for 10 years, and both of my children were born here," Winstead says. "As both a mother and someone involved in finding community healthcare options for families, I've realized that not every child has the same opportunities mine have. That's why I was attracted to John Rex Endowment's mission, knowing the great work they've done in the past and are doing today to level the playing field for Wake County children."
Winstead's work at UnitedHealth Group means she is professionally, acutely aware of children's vulnerability, particular those who must depend on Medicaid for mental, emotional and physical coverage. "I have learned so much being with the Endowment and seeing how our funding is delivered and implemented in Wake County, where we have some growth challenges. So many parts of the county are growing exponentially but that doesn't always mean the infrastructure is there to help children thrive," she points out.
Winstead says the Endowment's Strategic Roadmap isn't traditional, but that's a good thing: "The Strategic Roadmap gives us a chance to shift and mold our priorities just as we do in life. The concept of being a champion for children means that the Roadmap requires us to be open to innovative programs and solutions, not looking simply at early childhood but also beyond."
At the heart of it all, Winstead says, is helping children thrive now so they thrive later. "Children are innocent, delicate and moldable … and if we don't handle their needs appropriately now, when they grow to be adults they may need additional resources that our community might not have." [01/2020]