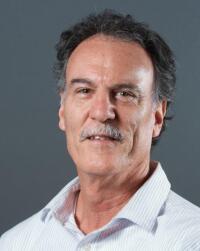 Pablo Escobar is in his fourth year as a John Rex Endowment board member. He brings a wide experience in non-profit management and advocacy to the table. He has held positions with Kaiser Permanente, Wake County Government and Urban Ministries of Wake County. He has also served on numerous boards in the community, including those of the Environmental Education Fund, El Pueblo and Wake County Human Services. He has recently come out of a brief retirement to be Clinic Director for Alliance Medical Ministries here in Raleigh.
Escobar is currently the Chair of the Endowment's Nominating Committee and will be transitioning to the Health Improvement Committee in December 2019, working with other board members and staff in making grant recommendations to the full board.
Escobar is comfortable with approaching decision makers within the county and asking them for time to speak about issues, but he realizes that isn't in everyone's comfort zone. "I believe my role on the Endowment board is to help all of us find our voice as advocates for children and families," he says. "That means talking to decision makers, figuring out what is in their purview that might possibly impact the people we serve, and being sure that we become part of their conversation."
Understanding community issues and being empathetic to the decision makers' time and priorities matters, too, he says.
Escobar believes that "courageous champions for children" are those who help build a common voice among nonprofits so that there is a united message about the priority of emotional, physical and mental well-being for children and families in Wake County. "There are other less direct ways to speak to those who are in a position of power, such as writing letters to the editor, using social media and mobilizing support and action in community based organizations. I am interested in exploring these avenues and working towards improving the quality of life in our community, for everyone."
He adds, "My goal for John Rex Endowment in the future would be for the Endowment to have a national voice – people would know us and know what our message is. We would represent the work of nonprofits with cutting-edge thinking and clarity." [09/2019]