Colisha C. Gilbert
Children and Young Adult Program Director, StepUp Ministry 
How would you describe your SKIPP Project experience?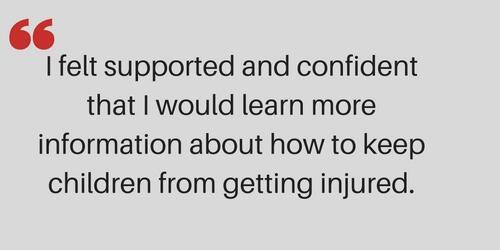 Resourceful. The room was full of professionals who all shared the same goals. I appreciated the staff allowing all the participants to ask questions and to offer up different perspectives. The facilitators were extremely knowledgeable, and we could tell they had clearly done their research.
Why did you participate in the SKIPP training?
We participated because we work with hundreds of children a year. We are able to engage with our families on a daily basis – we meet them in the community, in their homes, and at our location for services. We have direct access to families with children as young as six weeks up to 21-years-old, and we can train them from the start about how to keep their children safer.
How do you plan to use what you learned?
We have already implemented a seminar with our parents to discuss ways in which they can focus on positive parenting. The next seminar will include statistics that we learned from SKIPP and practical ways that our parents can promote safety in their environments and safety in their homes. For example, parents could be encouraged to research the statistics in their community or to check with the NC Highway Safety program to get more information. Parents can also participate in forums to discuss child safety.
There are opportunities now to train our families as we have a Life Skills program that happens each week. We are able to conduct seminars and trainings as often as we need to.  We also have room to schedule future trainings that are specifically about child safety.
What changes do you see happening in our community that are preventing and/or reducing childhood injuries?
I honestly wish there were more initiatives out there that focused on keeping children safe. I appreciate projects like SKIPP and a few other ones that take the initiative to bring about awareness.
How would you like to see others engaged around the prevention of childhood injury and what ideas do you have for engaging others?
Since we have direct access to parents, agencies and programs that serve children, seminars to unite our programs could be a good way to address childhood injury. 
See the view point of other SKIPP training participants.
Funded through the John Rex Endowment's preventing injury goal, the Skills & Knowledge for Injury Prevention Partners (SKIPP) Project provides networking and no-cost training opportunities to increase knowledge of injury prevention and to ensure that efforts are effective in creating safe environments for children.