Autism Society of NC Builds Capacity; Grows Stronger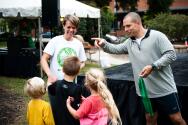 In North Carolina, one in 58 children may be diagnosed with Autism Spectrum Disorder. This prevalence rate comes from a CDC study of 8-year-old schoolchildren and is higher than the national average of one in 68. Families affected by autism increasingly face financial, emotional, and day-to-day hardships, and the Autism Society of North Carolina (ASNC) identified the need to increase their capacity to serve children and families as the need for more resources reached levels higher than ever.
With the help of three capacity building grants from the John Rex Endowment, ASNC embarked on a plan that allowed the organization to strengthen its infrastructure. "Our priority was to build the things on the inside so we were better positioned to serve individuals and families affected by autism," said Tracey Sheriff, CEO of ASNC. "As a result of the capacity grants we have received, we have been able to launch new and creative programs that incorporate innovative ways of providing vital services."
As ASNC approached their 45th anniversary in April 2015, the agency took the time to pause, reflect and celebrate on the short-term accomplishments and long-term outcomes resulting from multiple grants totaling more than $120,000 from the John Rex Endowment to support ASNC capacity building work.
"Over the past few years, the capacity building work supported by the John Rex Endowment has impacted every part of this organization – improving our fundraising, enhancing communications, helping us develop our strategic plan," said Sheriff. "Just a few of the highlights from capacity building investments include the organization's success in securing two of its largest gifts to date; an identified need and sustainable funding plan for a clinical director position, and increased awareness through communication efforts about the needs of people with autism."
Capacity-building grants allow nonprofits to secure the professional and timely assistance necessary to enhance organizational capacity and address important issues of development and effectiveness. The investments in infrastructure move organizations forward so they thrive and are better able to carry out their mission.
"Capacity building takes time, but the payoff for us has been much more rewarding than we ever imagined," said Sheriff. - August 2015
Learn more about Autism Society of North Carolina.