What Nature Teaches Children: NLI's Nilda Cosco Addresses TEDxRaleigh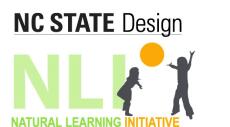 Nature is good for children. That was the theme of Dr. Nilda Cosco's talk at the March 2016 TEDxRaleigh. Dr. Cosco makes the case that a child's development will enhance in countless ways when a child is engaged with outdoor spaces that are intentionally designed for play and learning.
In her role as Director of Programs at North Carolina State University's Natural Learning Initiative (NLI), Dr. Cosco and the NLI team bring their expertise in children's outdoor environments to local child care centers.
Child care centers create outdoor learning environments
T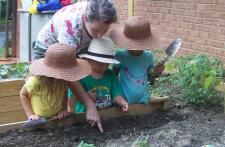 hrough NLI's initiative "Preventing Obesity by Design in Wake County", supported by the John Rex Endowment, child care centers are transforming outdoor settings into areas where children enjoy the outdoors in ways that promote healthy development. Whether building a spaceship or performing in a play or harvesting crops for lunch, strong minds and bodies are growing.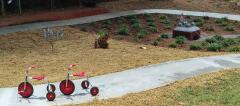 Wanda Davis, director, Child Care Network #61, said, "The NLI team helped us enhance the playground through the creativity of their design, and the new bike track has quickly become a popular activity area that sparks new games and imaginary play." Davis explained that the changes made to the outdoors have deeply engaged children in learning beyond the walls of the classrooms.
Wake County is fortunate to have child care providers who recognize the value of outdoor learning environments, and are committed to making the open-air a regular part of a child's day. It is access to healthy food and safe places for physical activity that contribute to a child's ability to be physically, mentally and emotionally well.