Child Care Centers Work to Prevent Childhood Obesity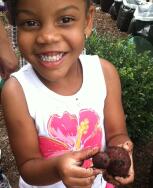 A Safe Place Child Enrichment Center is one of eight child care centers participating in Preventing Obesity by Design (POD-Wake), which is supported by a three-year grant from the John Rex Endowment.  Each center is transforming its outdoor area into active, productive, learning environments through design assistance and training led by NC State University Natural Learning Initiative (NLI). The eight child care centers are helping children develop active lifestyles and food awareness. 
A garden trainer from NLI visits each center on a weekly basis during the growing season and contributes to design implementation and programming activities for the teachers and students.  Wake County SmartStart provides each center with technical assistance throughout the grant term.
View photos and read more about preventing childhood obesity in North Carolina in an article published March 19, 2014 by the News and Observer, Concerted effort targets childhood obesity in NC.