'Gutsy Girl' Defies Odds with Help of YWCA Teen Parent Connection Program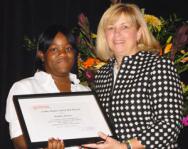 Daphne Barnes, a 16-year-old native of Raleigh, received the Kathy Higgins Gutsy Girl Award at the YWCA Academy of Women event Nov. 4, 2009. The Gutsy Girl Award is presented annually to a YWCA program participant between age 12 and 18 who exemplifies personal growth while demonstrating courage, passion and tenacity. 
As a teen mother she was told she couldn't be a student and a parent. On top of that, she was mourning the death of her child's father – a life-changing tragedy for anyone at any age. Despite the odds stacked against her and various negative influencers who said she'd never return to school, this brave young woman returned to pursue her high school diploma and created a support network by enrolling in the YWCA Teen Parent Connection, a program funded by the John Rex Endowment.    
YWCA program staff members report that Daphne has demonstrated an uncommon maturity, a strong sense of responsibility for herself and her family, independent thinking, and a willingness to take a stand based on her values. She is described as a leader among peers – participating fully in many program activities.
Daphne will graduate in June 2011. She is currently enrolling in an internship program at a local hair design studio where she'll gain valuable training to provide the job skills required to support her family and also finance her college education. She also views the internship as an opportunity to learn the inner workings of a small business – taking her one step closer to fulfilling her dream of one day becoming an entrepreneur. Upon graduation, Daphne's goals include attending a local college to earn her degree in business, as well as a master's in business administration.
Daphne was selected for the Gutsy Girl Award because she continues to strive for greatness. She's a creative force at the YWCA who mentors and empowers other teens. Daphne has been instrumental in developing a youth council to provide ongoing feedback for the YWCA and serves as a role model to other girls in the Teen Parent Connection program. She is an example that, despite choices made in the past, we can always make a change for the better for our future.
The Teen Parent Connection is a collaborative project of the YWCA of the Greater Triangle, Inc., Wake County Human Services, WakeMed Birth & Parent Education, SAFEchild, Shaw University Early Childhood Education, Development and Research Center, and the Wake County Public School System. This program provides comprehensive community-based support services that focus on reducing disparities in birth outcomes, enhancing parent-child interactions and relationships, and improving educational outcomes for pregnant and parenting teens. For more information, contact Cynthia Rivera, Teen Parent Connection Program Manager at 919-828-3205 x17.