John Rex Endowment Announces Heather Denny as Board Member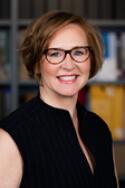 Heather Denny, president and chief executive officer of McDonald York Building Company, has joined the board of directors for the John Rex Endowment. She will serve on the Finance and Audit Committee of the board.
"We are grateful for Heather's commitment to serve on the board and support our mission to build a community where children can lead healthy lives," said Kevin Cain, president and CEO of the John Rex Endowment. "Her perspective will add to the guidance our board provides."
Denny is actively involved in the community as a leader and board member of many professional and nonprofit organizations, including the NC State Civil Construction and Environmental Engineering (CCEE) department's advisory board, the Carolina South Atlantic (CaSA) Chapter of the International Society for Pharmaceutical Engineering (ISPE), Union Bank advisory board and the board of governors of the City Club of Raleigh. She is also chair of the Triangle Area Chapter of the American Red Cross.
"I am impressed by the way that the John Rex Endowment connects people and financially supports and strengthens the work of organizations that are committed to improving the health and well-being of children," said Denny. "I'm grateful for the opportunity to serve on the board of directors and to help the foundation continue to invest in the future potential of children in our community."