Insights from Sabrina: Social Innovation Director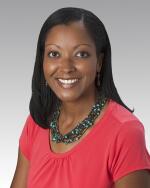 One of my favorite quotes from Dr. Martin Luther King, Jr. hangs in my office and reads, "Philanthropy is commendable, but it must not cause the philanthropist to overlook the circumstances of economic injustice which make philanthropy necessary." This quote has multiple meanings for me. First, it reminds me that the need for philanthropy grew out of larger, systemic issues that are still present today. The quote also reminds me that the philanthropic sector alone cannot solve issues of inequities that are centuries in the making. Economic injustices are community issues and directly and indirectly impact us all.
I joined the John Rex Endowment on April 1 of this year. In my role as Social Innovation Director, I am responsible for building more equitable frameworks in our grantmaking and advocacy efforts. I'm also charged with leading the Endowment's implementation of our strategic roadmap. This includes clearly defining ways in which we can build the capacity of nonprofits to grow stronger and scale their success as well as defining our role of catalyzing action, using our voice to advance public policy and supporting proven and promising practices at the organizational, community, and systems level.
As a foundation, we are striving to be intentional about our efforts in the community through deepening our understanding of systems change and the ways inequities are experienced differently by children and their families in Wake County. As Social Innovation Director and as part of my own on-going learning about racial equity, I know that in order to fully see inequities within any system, we must first reflect the mirror inward on our own biases, thoughts and beliefs.
Since April, I've had the honor of meeting so many amazing people doing phenomenal work in Wake County. Many of the people I've met are leading programs in the neighborhoods where they live. As a funder, it reminds me of how fortunate we are to have these community experts share their knowledge and skills as we continue to explore ways to build a better community for children and families in Wake County.
I look forward to working with the staff and board of directors at the Endowment as well as our community as we continue our journey towards supporting an environment where children and families in greater Wake County live healthy lives. Feel free to reach out to me for more information at sabrina@rexendowment.org.