John Rex Endowment Announces New Office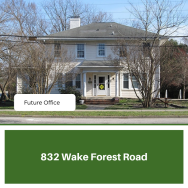 The John Rex Endowment announces its purchase of 832 Wake Forest Road to serve as the organization's new office.
"In the past several years, the John Rex Endowment has been approached by multiple buyers interested in purchasing our current property at 712 W. North Street in downtown Raleigh. With this increased market interest, we've spent the last year exploring relocation opportunities," said Jimmy Talton, board chair of the John Rex Endowment. "Our current location has served us well for eight years; however, it was time to look forward and assess how we can serve the community in new ways."
The new office is a two-story 4,000-square foot house built in 1924 and previously owned by Haven House Services, a Wake County nonprofit whose mission is to help youth be safe, supported, and successful.
John Rex Endowment President and CEO Kellan Moore said "This new home is approximately twice the size of our current office. We will remain easily accessible to community partners and be able to offer expanded meeting space and parking at no charge to organizations whose missions align with the Endowment. This space will provide more opportunities for us to convene and collaborate with our nonprofit community to help create solutions to the challenges facing Wake County children and their families."
The Endowment is slated to move in the summer of 2019 following renovations of the new property. Carter Worthy of Carter Worthy Commercial represented the Endowment in the transaction and is the listing agent for the 712 W. North Street property.
Since 2001, the John Rex Endowment has awarded more than $46 million in grants to support children and families in greater Wake County to live healthy lives.