John Rex Endowment Awards Over $375k To Support Nonprofit Capacity Building And Project Expansion Grants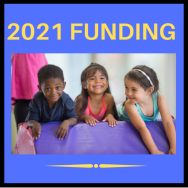 In June, the John Rex Endowment shared our 2021 Future Funding Approach, in which we stated our strategy and commitment to strengthen the infrastructure of local nonprofit organizations who are supporting children's social, emotional, behavioral health and well-being. The focus of our funding resources on existing grant-funded partners, also led us to explore those who were not awarded a more traditional Nonprofit Capacity Building grant. We welcomed the opportunity to evolve our funding strategies and develop new relationships while learning about the specific capacity building needs of these organizations.
In October, the John Rex Endowment Board of Directors approved a total of $80,000 in mini-grants—grants of smaller awards than our traditional grants to serve specific project needs. The following seven organizations, led by people of color, were awarded funding: the 100 Black Men Triangle East, Berean Community Center, Communities in Schools Wake County, Fiesta Cristiana, A New Lease on Life, S.M.A.R.T. Bus, and the Wake County Young Child Mental Health Collaborative. The funding provides nonprofits the ability to develop and maintain the infrastructure necessary to fulfill their respective missions. The $80,000 in grant awards will begin November 2021.
Additionally, Haven House Services was awarded a $295,830 Project Expansion Grant to implement the "Juvenile Justice and Behavioral Health Transformation" project. Haven House Services, whose mission is to help youth be safe, supported, and successful, will develop specialized outpatient and care management services over an 18-month period for youth at-risk who are involved in the juvenile justice systems and/or experiencing homelessness. This initiative is a part of an opportunity created by Medicaid Transformation and is in response to expanded opportunities to support children up to age 18 after the passage of North Carolina's Raise the Age legislation. This implementation project builds upon a Planning Grant that Haven House completed earlier this year.
The John Rex Endowment provides grant funding to Wake County nonprofits who share our desired impact. We will announce our 2022 funding strategies and grant award cycles later this year.