John Rex Endowment Is Now a Family Forward NC Certified Employer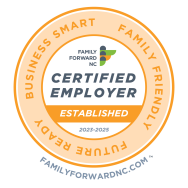 As the John Rex Endowment works to strengthen organizations that center racial equity and justice to improve the social emotional health of children living in Wake County, we are also exploring ways to strengthen our own organization.
That's why we recently became a Family Forward NC Certified Employer.
Family Forward NC, an initiative of the nonprofit North Carolina Early Childhood Foundation (NCECF), designates employers that offer policies and practices that support the health and wellbeing of working families and children using NCECF's Pathways to Grade-Level Reading Measures of Success and Action Framework and guidance from medical and early childhood organizations across North Carolina and the country.
Family-friendly workplaces have a competitive advantage. But more importantly, for children and families, the benefits of family-friendly workplaces are numerous and long-lasting. Research shows that children whose parents have access to family-friendly benefits receive much-needed support and time with their parents during the most critical years of brain development. This leads to positive health outcomes, higher education attainment, and future career success. Pregnant workers and parents and caregivers who have access to family-friendly benefits also have improved health outcomes and are happier and more productive at work.
We're proud to be a Family Forward NC Certified Employer. We hope you'll join this movement if you have not done so already.
Visit www.familyforwardnc.com to learn more about Family Forward NC.