Kate Shirah Graduates from Leadership North Carolina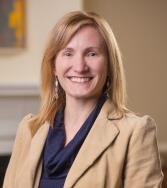 On the afternoon of May 10, Kate Shirah, John Rex Endowment program director, joined current and emerging leaders to become graduates of the esteemed program Leadership North Carolina Class XXV.
Each year since the program began in 1995, individuals from various regions and communities across the state and from the public, private, and non-profit sectors are invited to learn about issues related to government, economic development, health and human services, education, and the environment.
"The opportunity to participate in this 8-month program was incredible," said Kate. "Engaging with 54 people whose personal and professional experiences vary from mine has broadened my way of looking at the important work of supporting children and families in the context of top issues in our state."
Kate continued, "At the John Rex Endowment, we support partnerships and collaborations because we know that real impact requires action from a variety of sectors. Through Leadership North Carolina, I not only have a greater appreciation of how individuals from different arenas see their role in the community, but I can imagine abundant opportunity for what we might do together. Relationships go far and wide as each of us recognize what we have to offer and what we can gain from others."
On behalf of the children and families of our state, thank you Leadership North Carolina for your mission to inform, develop, and engage committed leaders across the state.
.