Kids Find Healthier Options at Raleigh Boys & Girls Club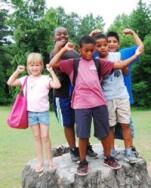 Boys & Girls Club is making healthy options available for snacking. They are piloting a new healthy snack vending machine from Fresh Healthy Vending at the specific locations. Kids are participating in the process with taste tests, and the Entrepreneur Club is setting up HOT (Healthy Options Too) Spot concessions after school and at athletic events.
Staff and board members at the Boys & Girls Club are also focused on modeling healthier habits. The organization is working on healthy food policies for Club-wide events.
The Physical Activity and Nutrition (PAN) Branch of the NC Division of Public Health is providing training and tools to ensure the Boys & Girls Club initiatives are sustainable. Support for the initiatives is provided through a Healthy Places, Active Spaces grant which is administered by the PAN Branch and funded by the John Rex Endowment.