Linh Pham Joins John Rex Endowment Team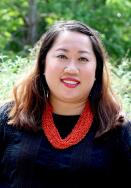 We are pleased to announce the appointment of Linh Pham as Operations Facilitator, effective May 2, 2022.  
Pham, with more than 15 years of experience in nonprofit community building, comes to the Endowment from the United Way of North Carolina, where she was a Resource Coordinator for NC211 – an information and referral line serving the entire state. In her previous role, she helped maintain the database that captured information on programs provided by health and human services agencies providing direct assistance to residents of the state.
She earned her bachelor's in international studies at UNC-Charlotte and master's in international development from the University of Pittsburgh. Pham, who is bilingual in Vietnamese and English, was a VIET fellow with Asian Americans/Pacific Islanders in Philanthropy studying the history and impact of Agent Orange in Vietnam and has worked extensively with the Vietnamese immigrant communities in North Carolina and Philadelphia, PA. As a young girl she dreamt of going abroad to save the world, but a mentor once told her there is a lot of good work to be done for communities stateside; she embraced this message and never looked back.
"We are excited to have Linh join us in this new role that will enhance the capacity of the team and serve as a central connection point for staff, board, and functions within the Endowment," says Kellan Moore, John Rex Endowment president and CEO. "Linh's prior work experience in philanthropy and most recent role at United Way of North Carolina makes her uniquely qualified to facilitate the Endowment's business and administrative operations. Her personal racial equity journey and lived experiences also make her an asset to work alongside as the Endowment continues its mission that will allow us to advance positive change for children."
A note from Linh:
I am thrilled to join the John Rex Endowment and eager to lean into its mission of centering racial equity and justice to improve the social emotional health of children living in Wake County. We live in a time when people are being called in to do so much good, transformative work and I'm happy to step into this bold space with the Endowment and our shared vision of a more equitable world.
Linh can be reached at linh@johnrexendowment.org.