Municipalities Consider Impact of Health in All Policies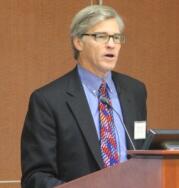 Community and individual health is influenced by more than just individual choices.  Based on the idea that health starts with where people live, work, learn and play some municipalities are embracing Health in All Policies (HiAP). The collaborative approach helps communities improve the health of all people by incorporating health considerations into decision-making across sectors and policy areas.
Active Living by Design (ALBD) and Advocates for Health in Action (AHA) invited Bill Lindsay, city manager for Richmond, CA to speak with our local leaders about Health in All Policies strategies that are helping to improve the health of community residents in Richmond.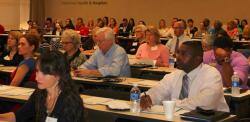 At AHA's August community breakfast meeting sponsored by WakeMed, and co-hosted by Wake County Human Services and YMCA of the Triangle, Lindsay shared Richmond's experience with the more than 100 Wake County leaders including elected officials and other local principals.
The six municipalities that are working on John Rex Endowment grant-funded projects to increase children's access to healthy foods and active living opportunities had the opportunity to learn from Lindsay at an annual meeting of grantees.
Lindsay's presentation highlighted the collaboration necessary among government departments and agencies as well as community-based organizations to address community health, equity and sustainability.
"We have been overwhelmed by the positive feedback we've received from meeting participants, said Sara Merz, executive director of AHA. "We are integrating what we learned into our existing work groups and are considering the addition of a Health in All Policies work group."
Learn more about the Richmond's approach to Health in All Policies and the following areas of intervention:
Governance and Leadership
Economic Development and Education
Full Service and Safe Communities
Residential and Built Environments
Environmental Health and Justice
Quality and Accessible Health Homes and Social Services
Read about the $1.25 million invested by the John Rex Endowment for six municipality projects to improve policies and implement changes that create healthier environments for children.
For more information on Bill Lindsay's presentation and HiAP see AHA's story "Moving towards Health in All Policies in Wake County".