Pablo Escobar Reflects on Board Service and the John Rex Endowment's Racial Equity Journey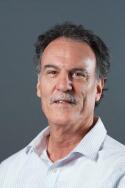 The John Rex Endowment thanks Pablo Escobar for his six years of dedication, leadership, and service as a member of its Board of Directors.
Escobar, who currently serves as the Clinic Director for Alliance Medical Ministry, brought his experience in non-profit management and advocacy to the Endowment. He served as a valuable thought-partner in community health and well-being and worked with board and staff to re-envision the Nominating Committee's processes and Endowment's intentions to do its work using a racial equity lens.
After more than two years of being a part of the Endowment's racial equity journey, Escobar reflects on the effort of the organization and its path moving forward.
"We identify what we can influence, what imbalances we can correct, what biases we will redress," says Escobar. "We intentionally marshal our resources to allocate funds for those groups who have been traditionally ignored due to biases. We listen to our applicants and grantees. We are humble in admitting our mistakes and take measures to correct them. We try different approaches. We are not stuck in our ways."
As the Endowment continues to analyze methods of equality and center racial equity in all aspects of the organization, Escobar says farewell to the board with the assurance that the work he has been a part of will continue.
"It's a work in progress. We started talking about equity long before it became fashionable, and we will continue addressing it long after it goes out of mode," says Escobar. "John Rex Endowment is committed to advocating for people who are marginalized. It is its mission. It is always on our minds. It must be in order to achieve our goals."