President's Message: A New Beginning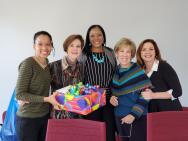 As I write to you today, I'm reminded that this time last year, I was eagerly looking forward to viewing the inspiring movie "A Beautiful Day in the Neighborhood," featuring actor Tom Hanks as the beloved Mr. Rogers. It was an inspiring, comforting and magical movie – full of optimism and advice for the future.
The future, however, became something else entirely during 2020. We have coped with COVID-19, racial unrest, political division and unimaginable losses. Despite all of it, we have together found newly discovered strengths and opportunities – all this so children and families can experience less fear and anxiety.
I'm comforted by Mr. Roger's truth-telling abilities reminding us that life will always have varying amounts of difficulty. In fact, one of his quotes that I most appreciate is this one: "There is no normal life that is free of pain. It's the very wrestling with our problems that can be the impetus for our growth."
His philosophy has resonated with me as 2020 comes to a close. While we have dealt with some unforeseen and painful circumstances, we have also been challenged to achieve our missions individually and collectively. As an organization, the Endowment has advocated for a national census to make sure all voices are counted; improved our training in and understanding of racial equity; uplifted our grantees through financial, operational and emotional support; and focused on effecting change on a local level for under-resourced and over-burdened children and their families. It is in our neighborhoods – and with our neighbors, no matter the color of their skin, their educational backgrounds or their immigration status – that we can have the most impact, especially during a time when change is coming fast, and uncertainty is a constant.
As we move into 2021, I know it's true for myself, and likely you as well, that we need to see each other, give each other grace to cope and be sure that we practice necessary self-care. All these steps will make us better advocates for issues and stronger as we deal with the unforeseen circumstances.
And once again, I share with you a meaningful quote from Fred Rogers: "Often when you think you're at the end of something, you're at the beginning of something else."
Let us look to 2021 as our "beginning of something else" and remain positive and committed to working together for the families and children of Wake County.
Wishing you a safe and healthy holiday season,
Kellan