President's Message: My First 100 Days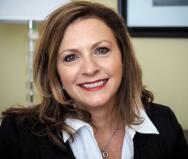 "If you want to go fast, go alone. If you want to go far, go together." - African Proverb
This proverb has provided inspiration and guidance in my past 25 years working in the nonprofit sector. Collaboration is a value I will live as I lead the John Rex Endowment into the future.
In my first 100 days, I've had the opportunity to learn from so many and am honored to work with such talented and committed staff and board members, grantees and community leaders.
At the same time, I know we have all reflected on the discourse in our nation, coupled with the challenges we face in our community. The burden is heavy. I am confident we can create solutions together for the greater good.
This coming year will be one of thoughtful conversations, strategic planning and preparing for the future while honoring our commitments and grant investments. Our current assessment and exploration of social determinants of health will inform and guide our planning. This process will likely take us through the first six months of 2018. We will share updates about what we're learning, and continue to engage you along the way.
As we embark on this important work, we will continue to honor our existing grant investments plus those grants that will be awarded in February. All of our current efforts continue to support our 2013-2018 Plan of Impact. In 2018, Requests for Proposals (RFPs) will be released in May for our Coalition Effectiveness and Nonprofit Capacity Building goals. We'll update you mid-year on our plans to release additional RFPs.
As I look back on 2017, and think about our collective future, I am grateful to live and work in a community where all children and families are valued. I am proud to call Wake County my home where together our hopes, dreams and purposes can be realized. I believe we can go far and I look forward to going there TOGETHER.
Thank you for your continued collaboration and commitment to the health and well-being of children and families.
Kellan Moore, MPH
President & CEO