Relief Efforts Involve Local Nonprofits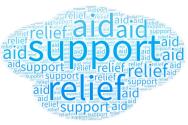 Wake County luckily did not bear the brunt of the recent hurricanes, although several area nonprofits had operations in the East that were affected. The message that our partners consistently reported to the John Rex Endowment, however, is that all were lending their support to other nonprofits, be it with supplies for families or words of advice for their peers.
Kellan Moore, President and CEO, was reminded of a documentary she had recently viewed, Won't You Be My Neighbor?, about Mr. Rogers and the principles he preached through his popular children's TV show.
"The grantees we spoke with after both hurricanes, particularly Florence, were living his message of supporting families and children in need, and being there in good times and bad," she commented. "As stunned as I know we all have been about these natural disasters, it's great to reaffirm that Wake County is a 'neighborhood' of doers and givers."