Sabrina Slade Promoted as Vice President of John Rex Endowment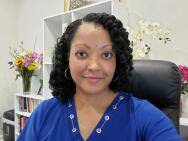 John Rex Endowment is proud to announce that Sabrina Slade has been promoted as the organization's Vice President.
In this role, Sabrina will —
Lead a team of dedicated staff members who ensure communications, grantmaking, and advocacy efforts enable the Endowment to achieve its mission.
Lead strategy development to increase community impact through system-level change.
Ensure the Endowment maintains its strong emphasis on centering equity in all functions of the organization.
Create new paths towards forming partnerships throughout North Carolina and the Southeast region to meet the Endowment's goals and strategies.
Join us in congratulating Sabrina on this achievement!