Triangle Funders Jointly Create Capacity Building Grant Opportunity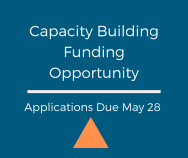 The Triangle Capacity-Building Network is pleased to announce a new funding opportunity for nonprofits located in Wake, Durham, Orange, Chatham, and/or Johnston County that are led by a person of color and/or are working within communities of color (an organization whose board of directors reflects the communities of color it serves is also eligible).
Grant recipients will be selected based on a plan to improve the organization's capacity. That plan must either utilize an organizational assessment, or implement specific activities building the organization's capacity. Multiple grants of up to $25,000 each will be awarded.
The Triangle Capacity-Building Network began in 2014 as a group of funders intent on identifying opportunities that supported nonprofits' abilities to be successful in delivering their missions. According to John Rex Endowment Program Officer Gladys Hairston, there was a growing need for this support. "Our group knew we had to learn and listen about the needs of community nonprofits. We invested in significant local research, focus groups, a large community convening, and conversations within the funder community," she explained.
The John Rex Endowment is partnering in this pooled-funding opportunity with the Triangle Community Foundation, the Oak Foundation, the Blue Cross and Blue Shield of North Carolina Foundation and the Mary Duke Biddle Foundation.
All proposals must be submitted by May 28, 2019 using the Triangle Community Foundation's online grants management system. Decisions are expected by June 20, 2019.

Full eligibility criteria, guidelines, and application instructions can be found on the Triangle Community Foundation's website. Questions should be directed to capacitybuilding@trianglecf.org