WakeMed Physician Practices and Triangle Family Services Receive Grants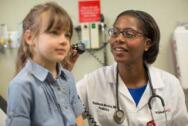 The John Rex Endowment announces a four-year grant of $769,271 to support the implementation of programs to increase the capacity of WakeMed Physician Practices – Pediatrics to promote positive social, emotional, physical, and cognitive health of children. Triangle Family Services has also been awarded a $34,055 grant for a nonprofit capacity building project.
The grant award for WakeMed Physician Practices – Pediatrics will support the expansion of its work with children whose life circumstances increase risks of adverse health outcomes and interfere with healthy development. WakeMed Physician Practices – Pediatrics will implement a Family-Centered Medical Home model and promote Triple P – Positive Parenting Program® to prevent the emergence of social and emotional issues in children.
The nonprofit capacity building grant for Triangle Family Services will provide resources to help the agency implement strategies to strengthen their infrastructure and sustainability. The John Rex Endowment is committed to funding capacity building for organizations that work to support an environment where children and families in greater Wake County live healthy lives.
"These grant awards provide support to strengthen the capacity of two organizations in our community that are committed to improving the health and well-being of vulnerable children and families in Wake County," said Kevin Cain, president and CEO of the John Rex Endowment.
See more information on the WakeMed Physician Practices - Pediatrics grant award.