WCPSS Project Enlightenment and 28 Community Partners Bring Triple P to Raleigh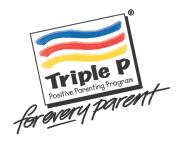 A network of 28 Raleigh agencies is ready to help parents with strategies from Triple P - Positive Parenting Program®, an evidence-based, international model that offers parents tools and tips to raise confident, healthy children. Project Enlightenment has provided training and certification for more than 150 staff in places and spaces where families visit, play or seek services in Raleigh.
The Triple P rollout in Raleigh is funded by a $2 million grant awarded by the John Rex Endowment in November 2013. The grant supports the positive mental health of young children, from birth to 5 years old, through a consistent, evidence-based approach to improving parenting skills, strengthening family bonds and preparing children to succeed in school and life. Partner organizations include agencies that already provide social-emotional, health and education services.
Parents will receive simple and practical strategies to help them confidently manage their children's behavior, prevent problems from developing and build strong, healthy relationships. Triple P works across cultures, socio-economic groups and in many different kinds of family structures.
"Each family is unique, and Triple P-certified partners will be able to tailor the type of help they offer based on different parenting needs," said Audrey Bunch, director of Project Enlightenment. "Partner organizations are now positioned to provide everything from quick and simple parenting tips to community seminars and one-on-one support for more complex family concerns."
Triple P services are integrated into the day-to-day practices of partner agencies to improve the effectiveness and reach of parenting programs in spaces and places that serve children. These services may be provided within individual parent sessions, small parent groups, or larger seminar settings.
 "The response from parents has been no less than amazing! Some who may have been hesitant say how easy the strategies were to use and how quickly their children responded," said Aprielle Anderson, Project Enlightenment Triple P Parent Counselor Educator. "Parents are excited about changing not only their children's behavior, but also their relationship with their children by making their interactions more meaningful, directed and positive."
Triple P is implemented in 33 counties or regions across North Carolina.
For more information, visit http://www.projectenlightenment.wcpss.net or http://www.triplep-parenting.net/glo-en/home/ or call 919-856-7777.