Our North Star: John Rex Endowment Announces New Mission Statement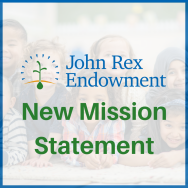 After more than 20 years of advancing positive change for children, and two years of strategic racial equity work, the John Rex Endowment team is excited to introduce our "North Star"—a new mission statement that brings clarity to who we are, what we do, and who we aspire to be.
The John Rex Endowment's mission is to strengthen organizations that center racial equity and justice to improve the social emotional health of children living in Wake County.
This mission addresses how we will support organizations working to improve children's social emotional health. The statement, which our Board of Directors adopted this month, evolves the Endowment's 2018 Strategic Roadmap. It guides funding and advocacy strategies that align with our vision and commitment to the community.
Our mission intentionally includes racial equity and justice—as defined in the Philanthropic Initiative for Racial Equity's "Grantmaking with a Racial Justice Lens: A Practical Guide." Through this shared philanthropic language, we can help build a network of funders who explicitly address and support both racial equity and racial justice work.
We cannot make meaningful change without recognizing the importance and complexities of racial equity, racial justice, and intersectionality. We know that addressing these nuances and structural racism itself benefits all children and will reduce disparities based in income, ability, gender and more. We understand that without targeted interventions based on racial equity, all children cannot and do not thrive.
As the Endowment continues centering racial equity in our work, we invite you to join us.
Our 2022 funding opportunities allow us to partner with those who are at the beginning of their racial equity journey, like us, as well as those who are further along, but building their racial equity capacity.
It is important to note that our racial equity journey is ongoing—a process of continuous learning and growth. While we will not solve the deep-rooted effects and pain caused by structural racism, we are committed to working toward solutions.
We are excited to partner with those who are committed to centering racial equity to improve the social emotional health of children living in Wake County.