Wake County Youth Well-being Profile
County Youth Well-being Profile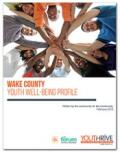 In our experience, a clear understanding of an issue is a sound predictor of productive change.  The recently completed Wake County Youth Well-being Profile provides a snapshot of the current conditions affecting children age 5-18.  The Profile sets the stage for a community-developed and implemented plan for ensuring that all Wake County young people are indeed thriving.  Youth Thrive will lead the effort to bring together and align existing strategic plans for organizations serving youth, as well as provide opportunities for new ideas and growth.  Show your commitment to our young people and this work by contacting Robin Rennells, assistant director of Youth Thrive, to join a Youth Thrive Action Team.
See the posting by Kate Shirah, John Rex Endowment program director, as she discusses the significance of data and its critical role in our community's collective ability to support young people.
The Wake County Youth Well-being Profile is a compilation of data from seven domains (Academic Well-being, Vocational Well-being, Social Well-being, Civic Well-being, Physical Well-being, Emotional Well-being and Safety).  The Profile was written by Youth Thrive's Data Action Team representing 11 community organizations.
February 2015