Nonprofit Capacity Building: 2014 Review and Future Directions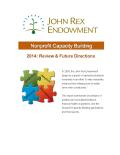 Since 2009 the John Rex Endowment has made grant awards to Wake County nonprofits to enhance and build their core infrastructure.  It is our belief that in order for an organization to effectively carry out its mission the organization itself must be strong.  Our Nonprofit Capacity Building: 2014 Review and Future Directions report provides the views from those organizations who have participated in this funding opportunity and the consultants who worked alongside of them. Combined with our own assessment of how organizations have changed subsequent to capacity building investments we provide a perspective on the impact of our support in the areas of leadership, adaptive, management and technical capacity.
We learned that grantees feel they are stronger organizations, with better capacity, as a result of John Rex Endowment funding.  And we learned that grantees feel there is more work to do.  We will maintain our nonprofit capacity building funding opportunities so that our local nonprofits may continue to develop their capacity to serve our community. Our request for proposals will reflect improvements as a result of our analysis.
Read more about our specific findings and how we will apply our learning in supporting Nonprofit Capacity Building going forward. Organizations and consultants can use the report findings as an opportunity to consider their efforts, past or future, in the context of others. 
We are grateful to the individuals and organizations that provided input on this evaluation, and we look forward to continuing to support the work of our community.  For additional information about our report, contact Gladys Hairston, at gladys@rexendowment.org or 919-838-1110 ext. 6.  - March 2015