Communities Invest Time to Build Relationships for Injury Prevention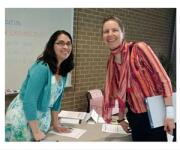 Individuals from 34 organizations engaged with colleagues at the June 16 event "Improving the Conditions in which Children, Youth and Families Live" hosted by the Skills & Knowledge for Injury Prevention Partners (SKIPP) Project. Keynote speaker Dr. Peter Morris set the stage as he spoke of the conditions that may influence a child's life.
Building a community of prevention practitioners
Throughout Wake County, organizations are challenging themselves to make a difference in children's lives. Six local initiatives highlighted their work and experience in preventing childhood injury.
Representatives from Youth Thrive and Project CATCH emphasized that their efforts are each based on collaboration. As they strive to make system-level changes, the commitment of community partners is essential in their ability to be successful. As one example, Youth Thrive's membership and partners include representatives ranging from business to education to youth-serving organizations to youth themselves who are creating positive change for Wake County youth. Youth Thrive's role, as convener, was to coordinate the work of the diverse collaborative in their creation of the Wake County Youth Well-being Profile.
Speakers from Middle Class Express, Project PHOENIX, Second Round Boxing and Boys & Girls Clubs spoke to the value of sincere relationship building and the importance of involving young people and community members in meaningful ways.
The variety of approaches demonstrated that there are many and different opportunities to address childhood injury through community engagement. Whether a new program or long-standing, practitioners continue to assess and learn effective strategies to creating safe and injury free environments.
See the presentations and more highlights from the preventing injury event.
Read about the John Rex Endowment's preventing injury goal and current funding opportunities.