Communities Take Steps to Create Safe Routes to School for Children
Walking or biking to school is a healthy way for children to start a day of learning, and communities in Wake County are making significant changes to prevent children from being injured while traveling to and from school. 
Laura Sandt, senior research associate at the University of North Carolina Highway Safety Research Center and member of the Wake County Child Pedestrian Safety Action Network grant project shared three examples of good work done at the community level to address child safety. 
The Raleigh City Council approved funding to place additional school crossing guards at elementary and middle schools. In addition to helping children to safely cross streets and intersections, the guards also oversee traffic and other local activity.  The Raleigh Police Department is administering the program.
The Town of Fuquay-Varina is developing a sidewalk system to improve pedestrian safety and revitalize neighborhoods near downtown including the area around Lincoln Heights Elementary School. The town and school are in conversation to explore how the new sidewalks can support safety improvements so more students and families will regularly walk or bike to school. Lincoln Heights Elementary is one of five model Wake County Public Schools participating in the Safe Routes to School (SRTS) grant project.
The School Health Advisory Committee (SHAC) recommended the promotion of the Let's Go NC! child pedestrian and bicyclist safety materials and making them available to all district elementary classroom teachers. The resource provides turn-key lesson plans, videos and instructor guidance for grades K-5.  Elementary age children can learn about and practice fundamental skills that build safe habits for life.  SHAC is the body of community and school representatives which serves as an advisory to the Wake County Public School System's Board of Education on topics relating to student health and well-being.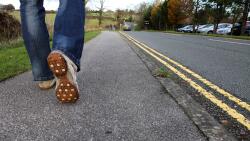 Efforts such as these, from environmental and policy changes to educating our children, are making Wake County a safer place for children.
Read WNCN.com's article More Crossing Guards Coming to Raleigh City Schools and the News and Observer article Fuquay-Varina to build sidewalks near Lincoln Heights.
See the Profile of Wake County Childhood Injury and Injury Prevention for key data and recommendations specific to the prevention of injury.