Growing a Culture of Healthy Eating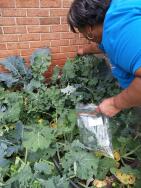 Kale might not be the first thing that comes to mind when you think of food at a child care center, but the green vegetable was the theme of the week during a visit to Raleigh's Childcare Network #61. Kale was easily seen throughout the center in everything from art projects to tasty samples and recipe cards in the lobby. Children were even planting, weeding and harvesting their crops in gardens right outside the classroom.
Child care center recognized for innovation
Childcare Network #61 is an award-winning example of how urban agriculture is taking root in our community. The center recently received a 2016 Raleigh Environmental Award for innovative local projects that teach and inspire others to get involved in urban agriculture.
"Making urban agriculture a lifestyle here at our center took work at the beginning," says Wanda Davis, director. "Now, it's who we are."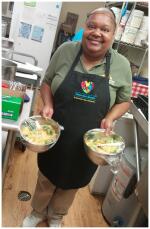 Changing the culture of a child care center requires everyone's buy-in and active participation. At Childcare Network #61, the cook regularly goes out to the garden to harvest fresh food for lunch. The teachers integrate gardening time into the daily curriculum. Once the culture change begins, there is no limit to the creative possibilities and benefits. "My only contribution is to provide the gardens with quality dirt," said Davis. "The rest is taken care of by the staff, children and families."
Children and families reap the rewards

In the gardens, there is no lack of quantity or quality. In addition to daily servings, the gardens generated enough fresh food to serve more than 50 people at the center's Thanksgiving dinner. Parents, especially those who live without access to fresh food, are encouraged to pick veggies for their families. Best of all, Davis says the children love the outdoors and are fascinated to watch something popping up from the ground.
Asked if she is an advocate of urban agriculture, Davis replied "Yes and no, I don't call myself an advocate, but I'm someone who believes in this work and wants to share my knowledge with others." Davis is motivated to promote urban agriculture because she knows that child care centers have a tremendous opportunity to support children and help put them on the path to a healthy lifestyle.
Learn more about Childcare Network #61's participation in the Natural Learning Initiative Preventing Obesity by Design project to transform the outdoor environment into active and productive settings.
See Wake County SmartStart Farm to Childcare for information on fostering nutrition plans that include fresh, local produce for snacks and meals throughout growing seasons.
.