June Networking Event Focuses on Injury and Violence Prevention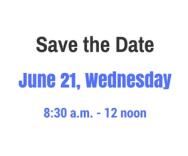 The Skills & Knowledge for Injury Prevention Partners (SKIPP) project announces Save-the-Date for the 4th annual Networking Event for childhood injury and violence prevention individuals and organizations serving children and youth in Wake County, NC.
This year's event will focus primarily on injury and violence prevention partners serving as speakers at the event creating increased opportunities for formal and informal networking. Presentations will highlight the community's efforts to prevent injury and violence among children and youth in Wake County, including efforts that seek to improve the conditions in which children, youth, and families live.
The free event will be held on Wednesday, June 21, 2017 from 8:30 a.m. to 12:00 noon, at the Rural Center (4021 Carya Drive in Raleigh 27610), with ample free parking. Registration begins in April. For additional information please contact Robert Letourneau at robert_letourneau@unc.edu.

SKIPP is a four-year project supported by the John Rex Endowment to provide networking and training opportunities to injury and violence prevention practitioners who serve children and youth in Wake County. The grant project was awarded through the Preventing Injury goal.