Local Governments as Health Champions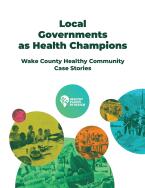 Municipal governments can play an important role in creating economically strong, healthy, and equitable communities. Six Wake County cities/towns validated this statement through their efforts to create healthier environments for children by increasing access to healthy foods and active living opportunities.
The report, "Local Governments as Health Champions," is the story of municipalities (Fuquay-Varina, Garner, Knightdale, Morrisville, Raleigh and Zebulon) tackling projects targeting long-lasting and wide-scale change. Each case story highlights the challenges and barriers encountered while achieving successful policies and changes to the built environment.
"It is projects such as these that positively impact the residents and the economic development of Wake County, now and in the future," said Kellan Moore, president and CEO of the John Rex Endowment. "I invite you to explore each of these case stories and to share this report with colleagues and external audiences."

The six municipalities were each awarded a John Rex Endowment three-year grant in 2014. The projects varied based on local needs to address food and play deserts, bridge barriers and improve connectivity with safe paths for biking and walking, support grower's markets and grocery co-ops, improve signage and wayfinding, or implement other built environment changes. Healthy Places by Design (HPBD) provided in-depth technical assistance throughout the grant period to all funded municipalities and Advocates for Health in Action (AHA) provided local expertise.