Using an Interactive Map to Look at Social Determinants of Health in Wake County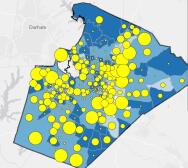 The story of Mapping Social Determinants of Health (SDOH) for Children and Families in Wake County examines the social, economic and environmental factors that influence health. Through a project commissioned by the John Rex Endowment, the North Carolina Institute for Public Health (NCIPH) recently completed an assessment and online Story Map (with User Guide) to describe how conditions such as the number of high-quality child care centers, existence of food deserts and high housing costs can affect children and their families' health and well-being. Using the Esri® Story Map with geographic information system technology, NCIPH staff mapped 12 key indicators to geographically identify assets and areas with higher opportunity for improvements, allowing a look at specific indicators across the county and to see which indicators are of most significance in specific geographies.
The John Rex Endowment is making the mapping tool available in hopes that community organizations can benefit from the information.
UPDATE:
Mapping Social Determinants of Health in Wake County - WEBINAR - Feb 15, 2018 10:00 a.m. (EST)
To register: https://tinyurl.com/SDOHwebinar
This 90-minute webinar will have two components. Part 1 will briefly introduce the concept of social determinants of health (SDOH) and the methods for selecting SDOH indicators. A live demonstration and walk-through of the story map will highlight some interesting findings, followed by a question and answer session. Part 2 will focus on advanced applications, with a special emphasis on the final chapter of the story, the asset map. Information will be provided on how to input additional data onto the assets map. The entire webinar will be archived for later viewing.

After the webinar, participants will be able to:
Identify SDOH framework indicators related to the health and well-being of children and families
Use the SDOH Story Map to help inform well-being and health improvement work focused on children and families of Wake County
Understand the limitations on interpretations of mapping SDOH community data and offer options to supplement the data