President's Message: 2019 Reflections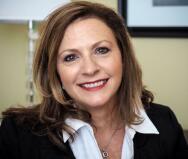 I recently went to see the new movie, "It's a Beautiful Day in the Neighborhood," in which my favorite actor, Tom Hanks, plays the great TV personality, musician, writer, producer, puppeteer and minister, Fred Rogers. Please go see it! Its themes of practicing kindness, caring for children and giving your "honest self" to others reminds me so much of our mission to support an environment where children and families in greater Wake County live healthy lives.
As you recall, in late 2018 we shared our Strategic Roadmap, followed by a year in which we did some necessary and important work to strengthen our own infrastructure. We completed our organizational assessment which led us to hiring a director of social innovation and a part-time CFO; we sold our office on W. North Street and renovated a new office on Wake Forest Road, which we will occupy later this month; and we added impressive talents to our board while leaning on those who had institutional memory to guide us as an organization. Throughout the year we remained focused on making grants that addressed the social influencers of health, continuing important capacity building funding and awarding expansion grants for existing grantees.
This week our board of directors approved two funding focus areas under our Strategic Roadmap. One is geared toward children's positive social, emotional, and behavioral health and well-being; the other focuses on nonprofit organizations' capacity to fulfill their missions. From what we have learned the past five years, it is increasingly apparent to us that there is a need for our continued support and that there is significant opportunity for more impact. As we move forward it is essential that we fulfill our mission using an equity lens. We appreciate the community's ongoing commitment to this important work and look forward to strengthening and expanding our partnerships in the future.
Learning and Funding Opportunities for 2020
We are proud to be one of the Triangle foundations that was an early adopter of funding capacity building for nonprofit organizations, and as noted above, we will continue for the foreseeable future. Click here to see the 2020 calendar of funding opportunities. Already we have invited current grantees under Our Plan for Impact: 2013-2018 to apply for expansion funds, and we will support and advocate for some key community projects such as the N.C. Census Count, which has implications for children's health issues in Wake County and statewide.
It is tempting after almost 20 years to keep busy doing good work without stopping for evaluation. But, as is our practice, we will set aside time to evaluate what we've learned from past grant investments; learn from community organizations and leaders; expand our equity journey as board and staff; and listen to people with lived experiences on children's issues…all with the goal of defining funding strategies for each of the two focus areas. Funding opportunities to support these strategies will start in 2021.
Sabrina Slade, our Social Innovation Director, will be leading our learning efforts through a series of Coffee & Conversations beginning in February. The purpose is to learn about any policies or system-level improvements needed to impact children's positive social, emotional, and behavioral health and well-being. In the next few months we'll be sharing more information about participating in these conversations.
As the year ends and we look forward to 2020 and the promise it holds, I want to thank you from the bottom of my heart for the work you do to keep children safe, healthy and living to their full potential. It seems fitting to quote Mr. Rogers who said, "Anyone who does anything to help a child in his/her life is a hero."
On behalf of the Endowment, thank you for being a hero.
With gratitude, Kellan